Insurance cards are distributed early each semester but are not available until you have financially registered and paid your insurance charge and all other fees. Please update your local address on CaneLink to ensure that the card is mailed to the correct address. Contact United Healthcare at customerservice@myuhc.com or 1-800-436-7709 if you have not received your card by September 30 for the fall semester, January 30 for the spring semester, or June 30 for the summer session.
Temporary or Replacement Cards
Temporary and replacement cards are available via myuhc.com once you have completed financial registration (you may experience a delay of 2-3 working days until your information is received by United Healthcare). Review these instructions to print a temporary ID card or to request a replacement permanent card. You can also download the United Healthcare App in order to obtain a temporary ID card. 
---
Effective Dates
Annual: Aug. 15 to Aug. 14 of the following year
Fall only: Aug. 15 to Jan. 9 (applies to graduating students only; documentation required)
Spring/Summer only: Jan. 5 to Aug. 14
Summer only: May 10 - Aug. 14
---
Card Information
Member ID: Assigned by United Healthcare
Policy #: Same as Member ID
Group #: 709872
---
Sample Cards
Student Health Insurance Plan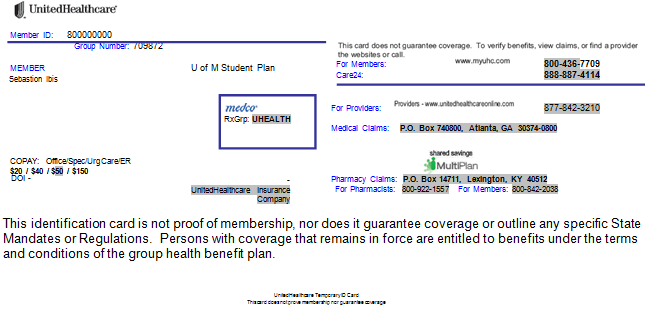 Travel Insurance Card